『 Cafe de IL DIVO 』
With love and gratitude from the fans to their efforts for ten years・・・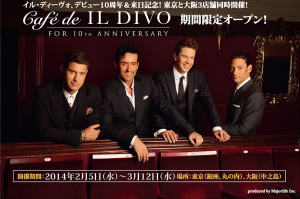 The long-awaited world tour starts in February 2014 in the last two years.
In Japan, the tour begins at Nihon-Budokan, Tokyo, then ten shows
in five cities are performed for two weeks, which is the longest in the past.
"A Musical Affair", which is the latest album, was launched in Japan
for the first in the world.
To commemorate 10th anniversary this year,
 three pop-up  "Café de IL DIVO" open in Tokyo and Osaka.
 It is the world first!
Dates : Feb 5 (Wed) – March 12 (Wed)
Enjoy the elegant and gorgeous special IL DIVO world at "Café de IL DIVO"
Superfine French, authentic British pub, American dinner…
Each café serves special menus inspired by the cuisine's of the guys'
four home countries and the title of their songs.
Special footage, CD artwork, posters, and panels are exhibited in the café,
spanning IL DIVO's 10 year history and visitors will be able to take photos with
life-sized panels of the guys (*note: life-sized panels exhibited in Osaka only).
Feel IL DIVO in five senses…and experience, the concept cafe produced by MajorLife
that carries out information dissemination with fans having fun.
With friends, families, or even on your own, "Café de IL DIVO" welcomes all of you!
You shall be able to make friends!!
 Thank you IL DIVO!!  We have supported you with our heart.

 Cafe de IL DIVO
NOTES:
★  At PCM (Marunouchi) and Saint Loise Amuse (Osaka), IL DIVO videos will be shown on big screens. 
★  At Saint Loise Amuse (Osaka), please feel free to take photos with life-sized panels of the guys after lunch/dinner.
★  Enlarged panels of IL DIVO will be displayed at both cafes in Tokyo (PCM and Pub Cardinal). Please feel free to take photos.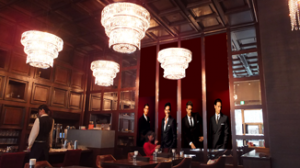 ★  Please bring us your special photos (your private photos taken at shows, or any IL DIVO related photos you would like to share with other fans) to cafes, and we are happy to display them.
(*Photos will be used solely for the exhibition purpose during the café period, and will be deleted after the special event). 
★  Each café will be happy to keep your fan letters (letters only), and will hand them to the members afterwards. (Sorry, presents are not accepted).
★  Give away prize: Ten lucky winners will receive IL DIVO original posters!
ATTENTION : Café may be closed when fully booked for any private functions.
Latest information will be announced on our website, and please call us before visiting.
We will do our best to serve all our visitors, but please be advised that the event details or announcements are subject to change. Thank you for your understanding in advance.
ENQUIRY
Majorlife Co., Ltd.  The Concept Café Dep.  Ms. IZUTANI   info@majorlife.jp